These Vegetable Nori Rolls call for brown rice, crunchy carrots and cucumber, soft, buttery avocado and spicy arugula.  They make a healthy and delicious snack or serve with a Creamy Carrot, Ginger Soup for a main course!
Fun to Make!!
I absolutely LOVE making nori rolls!  My culinary background is in Macrobiotics which originates in Japan, so naturally in culinary school we made an awful lot vegan sushi.   This version is my "go-to", but really any veggies will do.  I've used cooked quinoa in place of the brown rice (which admittedly is a bit messy, but yummy!), cooked sweet potato wedges and even salmon in the past.
Once you have a bamboo rolling mat and get the technique down, nori rolls are fun and easy to make and a great way to get the kids involved too!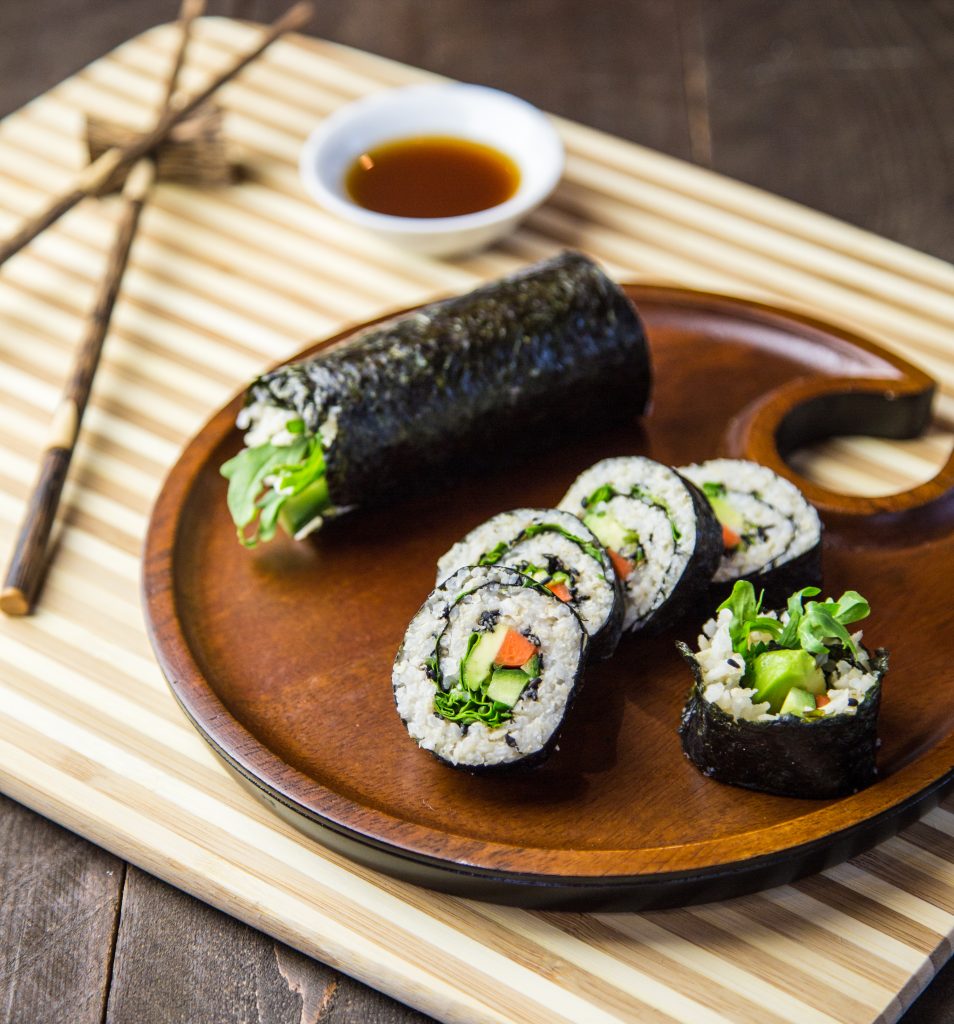 Why Nori
Sea Vegetables in general are incredibly healthy for you.  They contain vitamins, minerals and trace minerals.  In particular, they're a great source of iodine. Iodine deficiency has been linked to thyroid related problems, so I always try to sneak sea vegetables into meals when cooking for someone with thyroid conditions such as Hashimoto's.
In addition, sea vegetables are thought to have antioxidant and anti-inflammatory properties and act as an anti-carcinogenic. That's right, sea vegetables are thought to inhibit the development of cancer.
All health stuff aside, sea vegetables are also extremely delicious. Nori is slightly salty with a nice crunch, so eat up!!
Specialty items for this recipe:
Vegetable Nori Rolls Recipe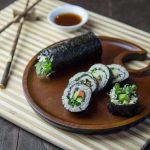 Vegetable Nori Rolls
Vegan | Gluten-Free | Anti-Candida
Ingredients
1

cup

uncooked brown rice

2

cups

filtered water

1

carrot

thinly sliced

1

cucumber

thinly sliced

1

avocado

thinly sliced

1

cup

fresh arugula

1/4

cup

toasted sesame seeds

2 - 3

sheets nori

bamboo sushi mat

1

medium sized bowl of water to keep hands moist
Instructions
Start by cooking the brown rice by first rinsing the rise in a fine mesh strainer under the faucet using your hand to scour the rice. Rinse until the water runs clear.

Place the cleaned rice in a medium sized saucepan with 2 cups filtered water and a pinch of sea salt. Bring to a boil, cover with a fitted lid and let simmer for 40 minutes. Turn off the heat and let sit for about 5 minutes before removing the lid. This step prevents the rice from sticking to the bottom of the pan.

While the rice is cooking, wash and thinly slice the carrots, cucumber and avocado, keeping each vegetable in its own bowl. Wash and dry the arugula and set aside.

Once the rice is finished cooking and cooled slightly you are ready to start.

Place one sheet of nori, shiny side down, on the bamboo sushi mat. Spread about 1/3 cup of cooked rice to evenly cover the bottom 3/4 of the nori sheet, it should be about 1/4 inch thick layer of rice, using your hands to press the rice all the way out to the sides and lower edge. Intentionally leave the top 1/2 inch of the sheet without rice.

Lightly sprinkle sesame seeds all over the rice. Now about mid way up on the rice place a row of carrot, cucumber, avocado and arugula. Starting from the bottom, roll up and after the first roll, pick up the bamboo mat and use that to finish the Roll. When you get to the end of the nori, wet the space without the rice lightly to help stick.

Use your hands to gently press the roll into shape. With a wet and sharp knife, cut the roll into 8 pieces starting in the center of the roll first.

Enjoy!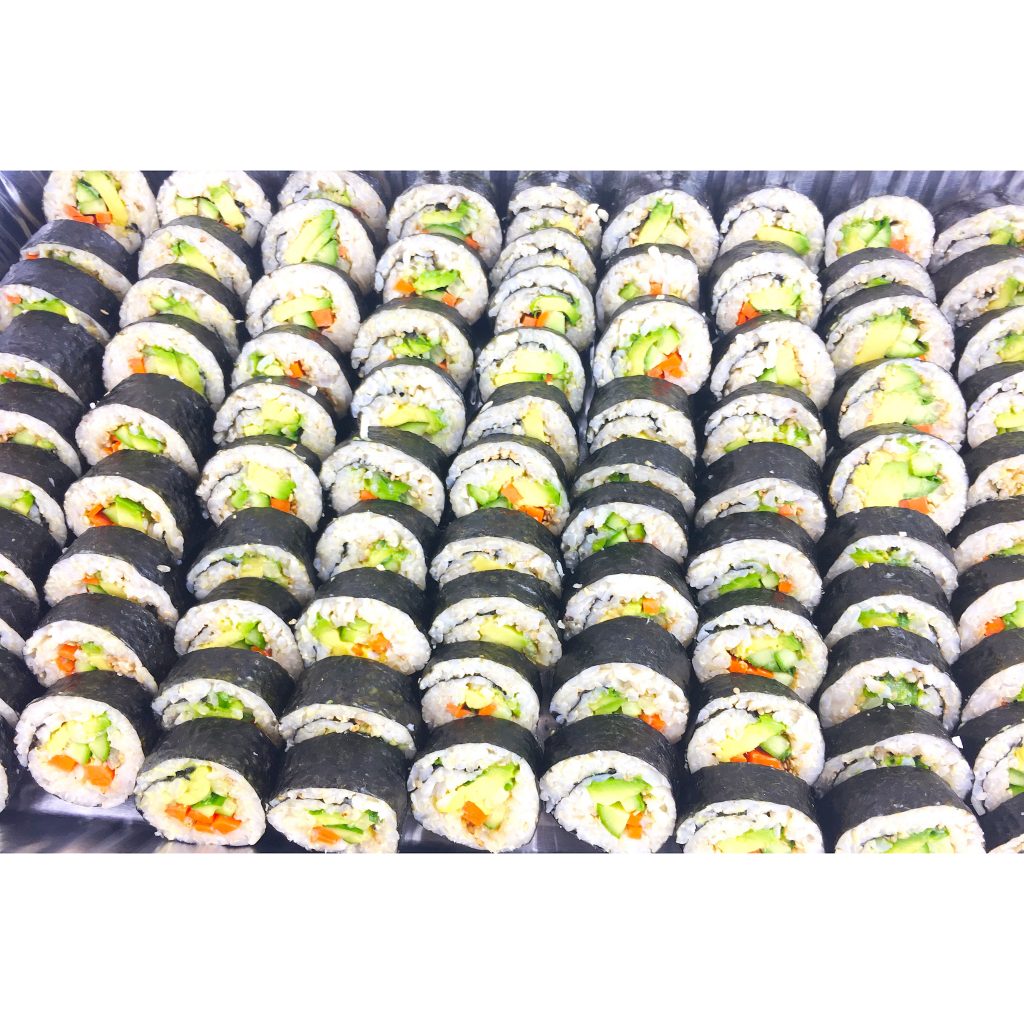 ✨ ✨ Need Some Help Navigating Your Health And Wellness?  
Check Out My HEALTH COACHING SERVICES.  Book Your FREE Complimentary 30 Minute Session HERE!
Like this post? Please share it 🙂