A Candida Diet soup recipe that's vegan and ready in only 10 minutes. This soup is incredibly easy to make, healthy and oh so satisfying!
Spinach is incredibly healthy!
Popeye was really onto something when he popped open a can of spinach to gain extraordinary strength.  And although instant eye-bulging, shirt-ripping muscles aren't super realistic results from eating spinach, it still remains a very healthy green leaf.  Considered a superfood, spinach offers a cornucopia of healthy vitamins and minerals including protein, calcium, iron, vitamins A and K, folate, magnesium, and potassium. In fact, spinach has more potassium than bananas!

Frozen spinach
In this recipe, I call for frozen spinach, which often comes in handy as fresh spinach can spoil quickly.  But are the nutrients found in spinach compromised during the freezing process?  Good question.  I'm glad you asked.  It seems that the only identifiable nutrient that is compromised during the freezing process is folate, a B vitamin that may protect against heart disease.  However, a study done at Pennsylvania State University found that folate levels also drop in fresh spinach when it is transported over long distances or sits in a refrigerator for a week.  With that knowledge, frozen spinach might be a better way to go when used for cooking.

Keep it simple 🙂
In this vegan soup recipe, rather than thawing the spinach first, place it frozen directly into the saucepan.  Although boiling spinach will decrease some of the potency of its nutrients, avoiding the thawing process will keep some of these nutrient levels intact, like vitamin C.
This spinach soup recipe fits the following diets:
Vegan
Gluten-Free
Paleo
Candida
Whole 30
Keto
Finally, some pro tips:
When blending hot soup, make sure to start with the lowest speed on your blender and slowly work up to high, this will help prevent the blender lid from popping off.
As a second precaution, place a clean dish towel between the lid of the blender and your hand.
I like to store soup in single serving mason jars in the fridge. This way you can easily take a serving out, reheat and enjoy!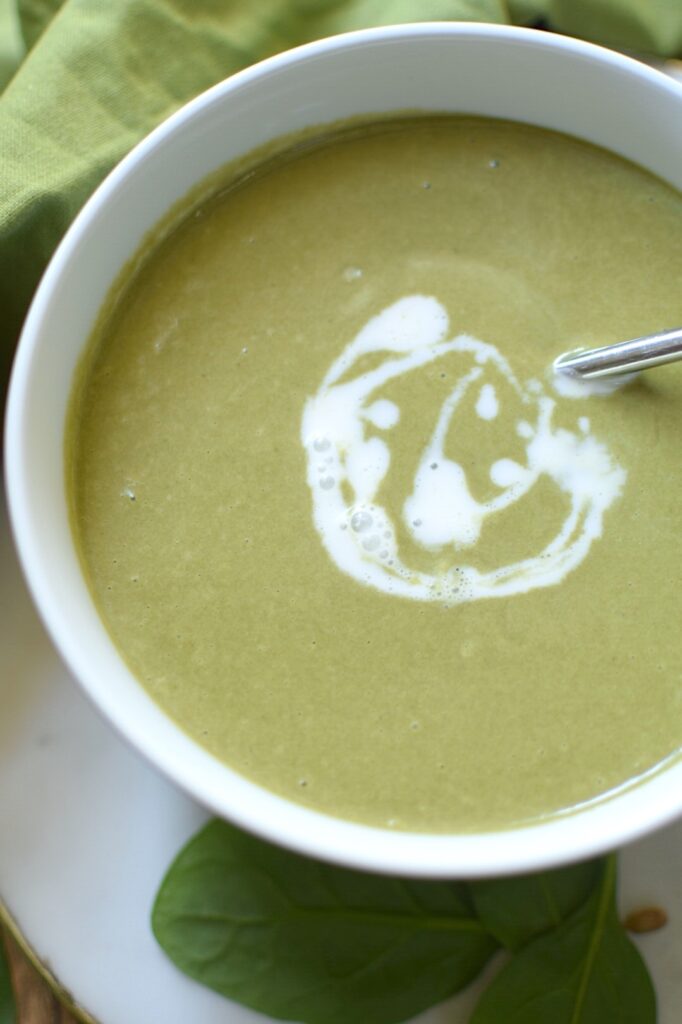 Candida Diet Spinach Soup Recipe
Easy Vegan Spinach Soup
Vegan | Gluten-Free | Paleo | Whole 30 | Anti-Candida | Keto
Ingredients
4

cups

frozen spinach

2

medium-size yellow onion

peeled and large diced

6

whole garlic cloves

1

can

13.5 ounces full fat coconut milk

1/4

teaspoon

sea salt

1/4

teaspoon

ground nutmeg

pinch

black pepper
Instructions
Place all ingredients into a medium size saucepan and bring to a boil.  Once boiling, cover with a fitted lid and reduce heat to medium.  Simmer for 10 minutes.

Remove from heat and remove the cover.  Let cool for about 10 minutes before transferring to a high-powered blender.*  Cover and blend, starting on a low speed and gradually increasing to a high speed. Blend on high for about 2 – 3 minutes, or until silky smooth.  Taste for seasoning, adding more salt and pepper if desired.
Recipe Notes
*If all the soup does not fit in your blender, you can blend in batches.  Try to make sure the batches are even in consistency and then stir them all together once every batch has been blended.  
If you've recently started a candida diet, you might like my One Week Candida Diet Meal Plan. One Week's worth of menu planning complete with grocery lists and recipes.