An easy and healthy spin on Chicken Tikka Masala that's dairy-free and fits a Candida Diet.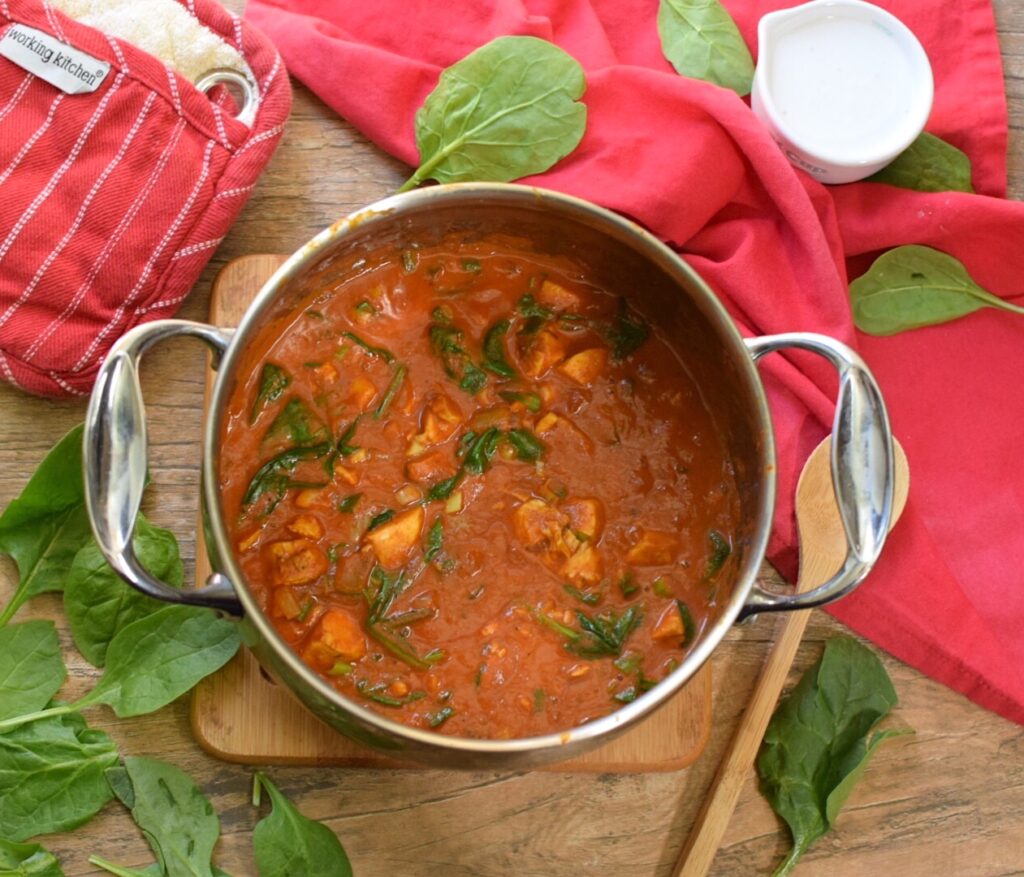 I have a confession to make…although I'm a trained chef, there are many cooking techniques that I'm still not completely comfortable with. For instance, I was never trained in cooking animal protein. Sounds pretty silly, right? But it's true. I attended a very specialty, plant-based culinary school where the focus was centered more around the healing properties of food, as opposed to fancy cooking techniques. It didn't prepare me for a career in a big, fast-paced kitchen, but was exactly what I wanted. Learning how to help people heal with food.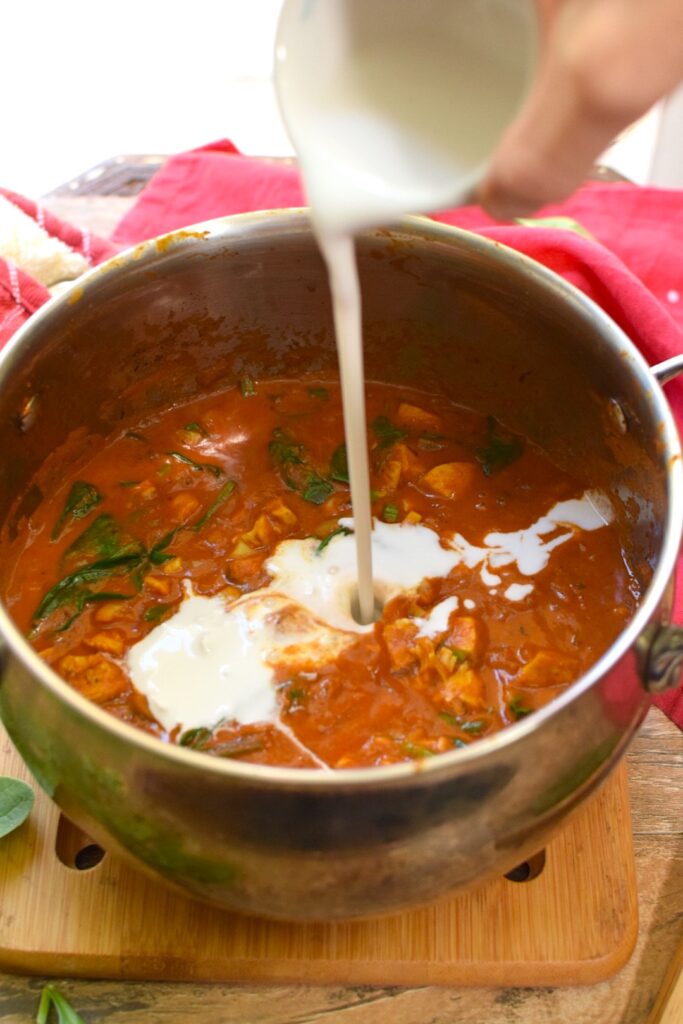 So Easy it's doable for even the novice chef!
Point being, I totally get that an Indian dish may seem a bit intimidating. Even as a "trained" chef, I still get a little intimated by Indian cuisine, but I've become a pro at simplifying things and this dish is no different. I've recreated this Indian dish in a quick and healthy way without sacrificing flavor. And I promise you, this dish is totally doable for even the novice chef.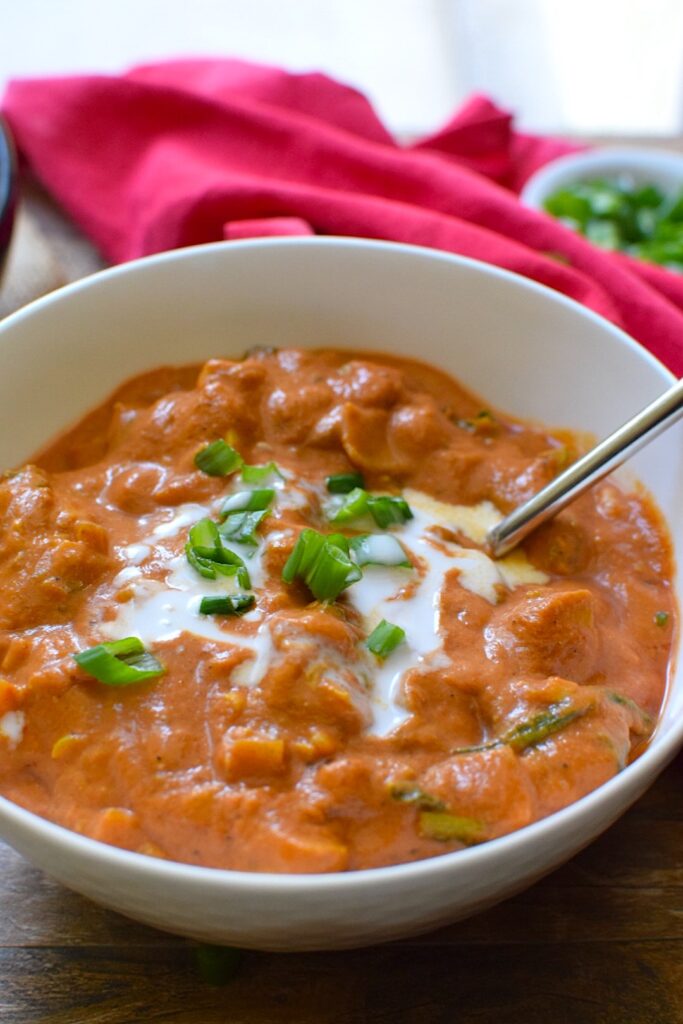 Chicken Tikka Masala Simplified
In traditional Tikka Masala the chicken is marinated in a yogurt and spice mixture for several hours before cooking. This helps make it more tender and flavorful. But for busy moms trying to stick to a specialty diet, we don't always have the luxury of time. So I did some experimenting and discovered that we can totally skip the marinade without sacrificing flavor. Plus we eliminate the dairy too. This step also saves us from having to cut raw chicken. You're welcome!
For a Candida Diet
I've found full fat, canned coconut milk replaces the yogurt pretty nicely, giving it a rich, creamy flavor that makes this dish so delicious and satisfying. This swap also keeps it dairy-free and candida diet compatible. And if you don't have garam masala spice handy, don't worry. You can easily make it at home using the recipe below.
Homemade Garam Masala Blend Recipe
Homemade Garam Masala Blend
Ingredients
1

Tablespoon

ground cumin

1 1/2

teaspoons

ground black pepper

1

teaspoon

ground coriander

1

teaspoon

ground cardamom

1

teaspoon

ground cinnamon

1/2

teaspoon

ground cloves

1/2

teaspoon

ground nutmeg
Instructions
Mix everything together and store in a glass jar with an airtight lid.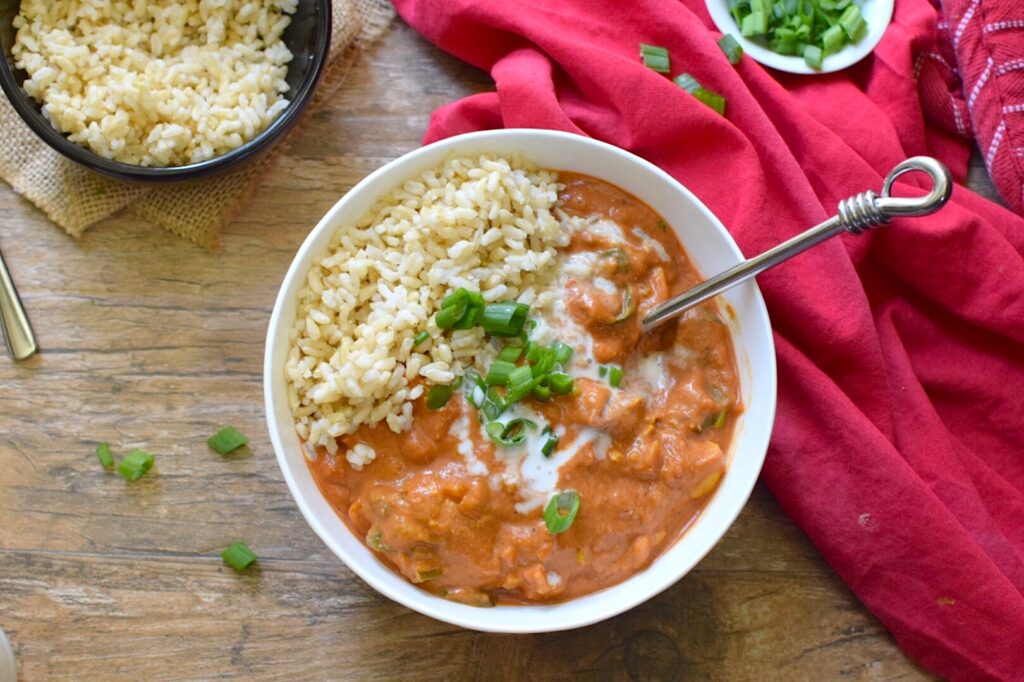 Easy chicken tikka masala fits the following diets:
Candida
Paleo
Whole 30
Gluten-Free
Personally, I love this dish served with brown rice, as shown above. But if you're sticking close to a Paleo diet, it's still delicious as is or served with a cauliflower "rice." And for fun, here's a picture of my 13 month old daughter chowing down on her own bowl of Chicken Tikka Masala. She even wanted to use a big girl spoon! I hope you enjoy this recipe that the whole family can enjoy!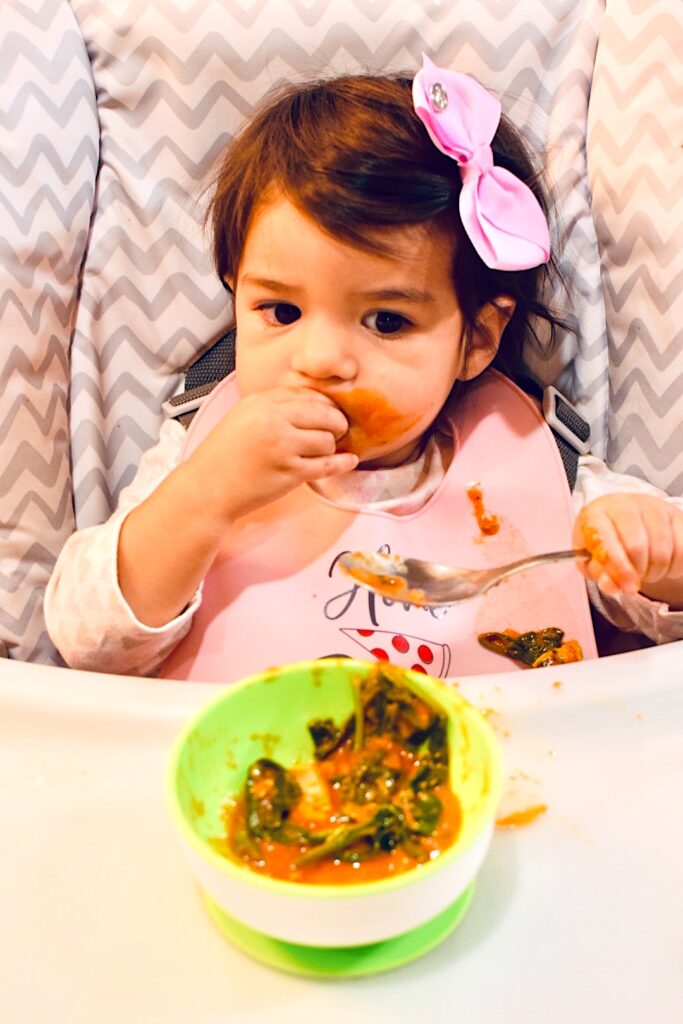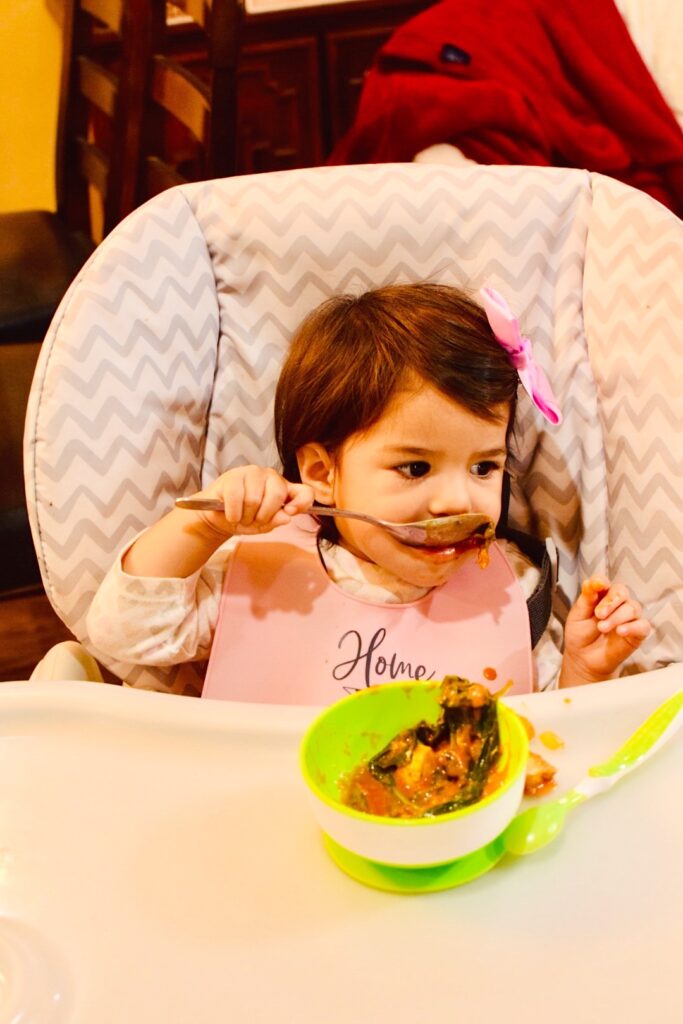 Easy chicken tikka masala for a Candida Diet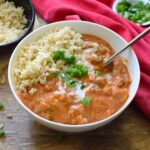 Easy and Healthy Chicken Tikka Masala
Gluten-Free | Anti-Candida | Paleo | Whole 30
Ingredients
for the chicken:
1

lb

organic chicken tenders

2

Tablespoons

olive oil

1/4

teaspoon

sea salt

1/4

teaspoon

ground cumin

1/4

teaspoon

ground paprika
for the sauce
2

Tablespoons

olive oil

1

large yellow onion

medium dice

4 - 6

garlic cloves

minced

1

inch

piece fresh ginger

minced

1/2

teaspoon

sea salt

2

teaspoons

garam masala

1

teaspoon

ground cumin

1/2

teaspoon

ground paprika

1/2

teaspoon

ground turmeric

2/3

cup

full fat coconut milk

canned

2

cups

plain tomato sauce

no sugar added

2

cups

organic fresh spinach
Instructions
Preheat your oven to 350 degrees and line a baking sheet with parchment paper.

Place chicken on baking sheet and drizzle with olive oil, sea salt, cumin and paprika. Bake for 12 - 14 minutes, or until fully cooked.When the chicken is finished baking, let sit for about 5 - 10 minutes to let cool. Once you can handle it, cut into bite sized pieces.

Now heat a large saucepan with 2 tablespoons of olive oil. Add the onions, garlic and fresh ginger and a pinch of sea salt. Sauté or 1 - 2 minutes. Next add the chopped chicken, garam masala, cumin, paprika and turmeric and sauté for 2 - 3 minutes more, stirring everything together to make sure the spices are distributed evenly. Now add the coconut milk and tomato sauce and give it a quick stir. Reduce heat to medium low and cover with a fitted lid. Let simmer for about 5 minutes to combine. Add the fresh spinach, give it a quick stir and let simmer for 1 - 2 minutes more.

Serve with brown rice or Paleo Rolls for a grain free option.
Looking for more Candida Diet Recipes? You'll love my new cookbook Everyday Recipes For Your Candida Diet. Over 100 Recipes To Restore Gut Health And Get Candida Under Control! Grab Your Copy Today!